We at Hottracxs Entertainment speak to many engaged couples about the lighting possibilities for their weddings. There are so many ways to use lighting to make your wedding one of a kind. We wanted to highlight a few of our most popular Wedding DJ Lighting we get asked about. 
1) Gobo lighting
Unless you are a DJ, in the lighting industry, or have met with multiple wedding DJ companies, chances are you are not familiar with the term Gobo light. But most likely you have seen them before. These are the lights that are personalized with your names, logo, and date on them. The usually shine on the walls but more commonly the dance floor. This have popped up on Weddings, Mitzvahs, and sweet 16s. They can definitely add a special touch to your wedding. These types of lights make for great pictures as well.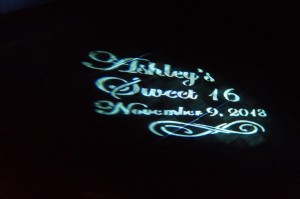 Most wedding photographers will capture this image to use as a background image on their layouts for you wedding photography albums.
2) Sound Activated Lighting
There are so many types of sound activated lighting that professional wedding DJs can use. These have been around for a long time and often can produce multiple colors. The colors on these lights change with the beat. There are numerous variations of these lights and each can add something a little different to you wedding or party.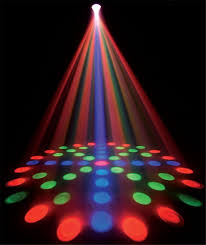 These lights usually act independent of each other and are designed to bring extra color to your wedding event. Sound activated DJ lights mainly cover the Dance floor, but if angled the right way, can cover a small room.
3) Intelligent Lighting
Intelligent lighting have only been around for a few years. And over the last couple of those years have made some enormous improvements. By definition, intelligent lights are able to connect to the other DJ dance lighting at an event and communicate with them. The can move in full 360 degree circle and the capabilities are endless. You can have a light jockey on a party to really enhance every second of your wedding. You will be able to be introduced into the room with a spotlight entrance and then followed for your first dance. These types of lights can be set to focus on the entire room or just portions of it.
Moving heads are the most common type of intelligent lighting used, however there are other forms of it as well. Moving heads are by far one of the most requested dance lighting we get asked for from our wedding couples. These lights are also used in large concerts, TV competition shows such as American Idol, Dancing with the Stars, and The Voice. They can also be found in broadway productions and even political campaigns. You get the point! These are a popular lighting solution as the possibilities of what these lights can do are endless.
 4) Up-Lighting
So what are up-lights? On your wedding mission to find the right reception hall and the right DJ company, you have undoubtedly heard the term up-lights. These are the lights you will find that highlight or accents a room. Depending on the kind of Up-lights and the amount of them, you can accent parts of your reception room or change the entire color of your room.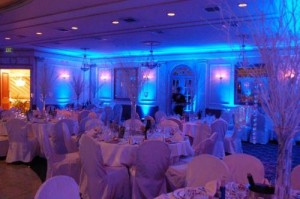 Today, wedding DJ uplights have the capability to change to different colors through out the entire night or at certain moments, like First Dance, Cake Cutting, etc. Hottracxs Entertainment has all of our Up-Lights wirelessly so that we can present a cleaner look for your wedding.
Using the Up-Lighting correctly with the dance lights can bring the entire party together. By changing the colors of the room at different moments of your wedding you will be able to instantly change the feel of the reception, going from a party dance set into a dinner atmosphere and then back again.
5) Laser Lights
Like any of the above lighting Laser lights come in different forms and options. There are lower level laser all the way up to the premium laser lighting. Many people think lasers are meant for clubs and raves. While Laser lighting can make a great addition to any club or concert, they can also be a great addition to your wedding, sweet 16 or mitzvah.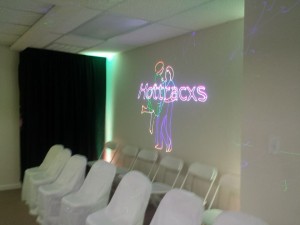 Hottracxs carries all the different levels of laser lighting. There are the more basic lasers, which is great for creating certain dance lighting atmospheres, and then the high end lasers.
The picture of the laser image to the left is taken inside of our office. Lasers can be a great substitute for your wedding gobo light as we can project it to say your names and date. We can also project animations of people dancing, champagne glasses clinking and even a laser firework show. When it comes down to dancing there are many different dance effects we can add. We can shine atmospheric shapes and even 3-D images. Many of our brides and grooms usually choose to add the lasers once they seen them.
Other wedding lighting options?
Sure there are many other wedding lighting options out there. We only mention our 5 most requested. If you have seen any other lights you have questions about let us know. We would be happy to answer any questions you might have about your wedding lighting or for your wedding in general.